---

Cintura pantaloni racing style Sabelt
Una cintura per pantaloni racing in perfetto stile Sabelt;
realizzata in Italia con la fibbia a rotazione tipica delle cinture di sicurezza per le auto da corsa.
Pensata per i meccanici che devono agganciare gli attrezzi quando vanno in pista;
è anche un accessorio di moda per distinguersi e dare un tocco sportivo e di classe al proprio stile.

Taglia unica, regolabile. Sono disponibili nei colori:
Nero, Rosso e Blu

Sconto del 18% (-10 €) se acquistato assieme al Libro su Luigi Moreschi


(Alcuni colori potrebbero essere disponibili solo su ordinazione)
---

Trouser belt racing style Sabelt
A racing belt for trousers in perfect Sabelt style;
made in Italy with the rotating buckle typical of seat belts for racing cars.
Designed for mechanics who have to hook up tools when they go out on the track;
it is also a fashion accessory to stand out and give a sporty and classy touch to your style.

One size, adjustable.They are available in colors:
Black, Red, and Blue

18% Discount (-10 €) if purchased together with the Book on Luigi Moreschi


(Some colors may be available only on order)
Colori
Colors
Nero, Rosso, Blu
Altezza
Height
50 mm
Peso
Weight
240 g
Codici
Codes
CINASTPO900
CINASTPO500
CINASTPO800
Categoria
Category
S5
Prezzo
Price
55,00 €/cad
Costi di spedizione
Postale in Italia
(No PayPal)
(in 5 / 15 giorni lavorativi):
Costi di spedizione con
Corriere Postale in Italia


fino a 2 pezzi


(in 2 / 6 giorni lavorativi):

Italia: 8 €

Calabria e Sicilia e Sardegna: 16 €

Isole Minori, Venezia Città e Località disagiate: 27 €


Commissione su contrassegno: + 5 € (NB: Codice fiscale obbligatorio)

Costi di spedizione con
Corriere Espresso in Italia
(in 1 / 3 giorni lavorativi):

Italia: 15 €

Calabria e Sicilia: 17 €

Sardegna: 21 €

Isole Minori e Venezia Città: 41 €


Commissione su contrassegno: + 8 € (NB: Codice fiscale obbligatorio)

Costi di spedizione all'estero
Shipping costs outside Italy
Contattateci per un preventivo


Contact us for shiping quotes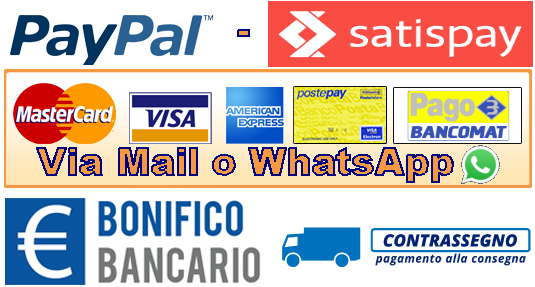 Se ancora non usate la App Satispay, utilizzando il codice promo (RUGGEROMORES) per attivarla riceverete un Bonus di 5€ da spendere per l'acquisto.
Inoltre poi per il pagamento le invieremo una richiesta (come se si fosse in negozio) che le permetterà di usufruire anche del 10% di Cashback di stato.
Aggiornamento: sabato 10 aprile 2021


sabelt@moreschi.info


Luigi Moreschi Motorsport srl
Via Enrico Fermi 4 - ZAI, I-46020 Quingentole (Mantova), Italy UE
Telefono +39-038642545 | Fax +39-038642546 | Portatile +39-3482409878

Per maggiori informazioni sulle condizioni di vendita consultate le nostre direttive commerciali.
For more information on the conditions of sale, see our commercial instructions.